Article medically reviewed by Dr. Gavin Chan (MBBS, cosmetic physician, liposuctionist)
Templestowe Lower and Berwick Clinics
Dr. Gavin Chan has a background in intensive care, anaesthesia, and emergency medicine. Since 2004, Dr. Chan has provided cosmetic procedures, including anti-wrinkle injections, dermal fillers, liposuction, fat transfer, skin needling, and laser treatments. He is a doctor trainer for various dermal fillers and anti-wrinkle injections.
Read More
Quick Facts about Lip Fillers
Dermal fillers can be injected into lips to enhance their shape and size.
There may be some swelling and bruising after lip filler, and this can be minimised by utilising a fine micro-cannula rather than a needle to inject lip filler.
The areas that surround the lips can be injected also with dermal fillers.
The standard lip filler standards of 1mL of filler every 6 months often result in overfilling of the lips.
Migration of lip filler out of the vermillion can occur with time and larger amounts of filler.
Lips filler injections are a delicate art. Our cosmetic doctors and nurses are highly trained by Dr Gavin Chan to achieve beautiful, natural-looking lips.
How can lips be enhanced with dermal fillers?
Lips can be augmented through the injection of dermal fillers. The shape, size and symmetry of lips can be enhanced. Furthermore, volume loss of the lips occurs with ageing, and replacing this lost volume can result in more youthful-looking lips.
Typically, temporary hyaluronic acid fillers are used for lip enhancement. Hyaluronic acid fillers can be reversed by the enzyme hyaluronidase. Permanent fillers can also be used, although this is a small minority of the lip fillers performed as permanent lip fillers tend to have more complications. Previously, collagen was used as a lip filler, however, this is no longer available.
Enhancing lips may also involve the injection of filler into the areas surrounding the lips. For example, injecting fine upper lip lines, or lifting the corners of the mouth with filler.
At the Victorian Cosmetic Institute, we aim to enhance lips proportionately to the rest of the face.  It is important also that the upper lip and lower lip balance. Our philosophy is to enhance your lips to look natural, and not over-inflated.
What is involved with having lip fillers?
A consultation to discuss lip fillers is the first step. During this consultation, your practitioner will discuss with you the amounts to be injected, the expected outcomes, risks and benefits of the procedure. Due to the likely possibility of swelling and bruising, the treatment date may need to be planned in advance.
Our practitioners utilise fine micro-
cannulas
 rather than needles to inject filler. This significantly minimises the amount of swelling and bruising caused so that downtime. The lip filler is usually injected through small entry points, usually one on each side of the lip.
Local anaesthetic injections can be used to numb the lips prior to injection. This is an option for those who are concerned with discomfort during the procedure.
What lip areas can be enhanced with fillers?
The body of the lip or the vermillion is the most commonly enhanced area. This gives the lip volume and slightly events the lips. This is usually done to both the top and bottom lip in most cases to achieve a natural balance and appearance between them.
The vermilion border is the junction between the white and red part of the lips and can be enhanced by injecting dermal fillers in this area. This defines the lips in a similar way to applying lip liner.
Correction of vertical upper lip lines, if present, is also important in the enhancement of lips. This area is often a key area of concern for patients and can be softened with a variety of fillers.
The oral commissures or the folds in the corners of the mouth can also be filled.  Filling this area turns the corners of the lips upwards creating a 'happier' appearance to the mouth.
The philtrum consists of the two lines in the centre of the upper lip that connects to the nose. By enhancing this double-ridge, it is possible to give the upper lip more shape and curve, enhancing the sensuality of the lips.
The cupid's bow or the V-shaped area in the centre of the upper lip can also be enhanced with dermal fillers. This makes the V more pronounced. Done in conjunction with the philtrum, it can achieve a pleasant overall shape to the upper lip.
How much lip filler should I have and how often?
The generally accepted standard for lip filler is to inject 1mL of filler every 6 months. However, injection of this amount and frequency commonly lead to over-filling of the lips. Hyaluronic acid fillers typically come in 1mL syringes, and the expected longevity of these fillers is 6 months. In 2019, we performed MRI scans on patients who had filler many years ago, often greater than 10 years, and found their filler to be present. We surmise that lip fillers can actually last for much longer than 6 months. Therefore, too frequent filling of the lips can easily lead to over-filling.
Ironically, a common complaint about lip fillers is that they often 'disappear' after only a few weeks or months. Once again, using MRI scans, we found that lip filler persists, but often migrates out of the lip into surrounding areas. This creates the impression that they have gone when they have not.
We recommend infrequent filling of the lips, and to also use only small amounts with each session. Rather than using 1mL to inject just the lips, we suggest that this one mL of filler can be spread through the whole face. Only a fraction of a mL should be injected into the lips at one time.
Lip Filler Case Study 1
This patient presented to Victorian Cosmetic Institute wanting to increase the volume of her lips . Her lips were enhanced using the cannula method. The patient reported she had no bruising, no pain and no downtime. She is very happy with her results and feels more confident when going out.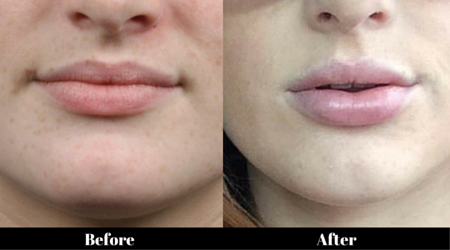 Lip Filler Case Study 2: Enhance definition and volume
This patient presented to Victorian Cosmetic Institute with concerns that her lips lacked definition and volume. She also noticed that the upper lip tapered away from the middle to the outside. Her lips were enhanced by placing product in the lip line and body to enhance shape and volume.
Case Study 5
This patient has been seeing Dr Gavin Chan since 2012 for lip enhancement. She has had treatment approximately every 6-9 months.
The after picture below was taken just prior to her next treatment and about 6 months after her previous treatment. From this you can see a natural result can be maintained over years of injectable procedures.
What do aesthetically pleasing lips look like?
This is a personal preference. Our staff take time to discuss your needs and what you would like to achieve.
However, it is important to have lips that fit your face appropriately. As a rule, for people with a smaller face, eyes, and nose, smaller lips may be appropriate. Over-enhancing lips in such a person could create a false or unnatural appearance.
The bottom lip should also be larger than the top lip as a general rule, and the upper lip should protrude slightly when seen from the side.
It is also important to avoid the 'trout pout' or 'ducky lips'. Inexperienced injectors often create this look by over-injection in certain parts of the lip.
What are the side effects of lip enhancement?
After lip enhancement, the main side effect is swelling of the lips. This may persist from 3 to 14 days, although the swelling after only a few days has substantially subsided. Usually injection of the lip body produces more swelling than the border. The type of dermal filler used also determines to an extent the degree of swelling.
A  bruise may also result from the injections at times.
Occasionally, lip enhancement may cause cold sores to reappear. If this occurs, you need to notify your doctor of this and be prescribed an anti-viral tablet.
All of these side effects are reduced significantly through the use of a cannula instead of a needle.
What do I need to do after injectable lip enhancement?
The swelling will occur immediately and ice packs can help reduce this. Not drinking too much water for the first 24 hours may also help reduce swelling.
You may need to use a lip balm to help prevent dry lips initially, and no make up is to be used for 12 hours.
It is best to avoid strenuous exercise and excessive UV exposure for at least 48 hours post treatment.
If there are any lumps felt, you are able to massage these twice a day until they have resolved. If these lumps persist, you may need to have them corrected by your treating doctor or nurse. Lumps from the temporary fillers we use can be dissolved by injecting a dissolving product.
Why choose Victorian Cosmetic Institute as your provider of injectable lip enhancement?
The doctors and nurses at the Victorian Cosmetic Institute take time to discuss your personal requirements and preferences as to the kind of lip enhancement you would like. We utilise specialised techniques such as micro-cannula injections to provide better experiences and outcomes. Our doctors and nurses are highly experienced in lip enhancement.