The best way to improve the attractiveness of your mouth and reduce your gummy smile
Article medically reviewed by Dr. Gavin Chan (MBBS, cosmetic physician, liposuctionist)
Templestowe Lower and Berwick Clinics
Dr. Gavin Chan has a background in intensive care, anaesthesia, and emergency medicine. Since 2004, Dr. Chan has provided cosmetic procedures, including anti-wrinkle injections, dermal fillers, liposuction, fat transfer, skin needling, and laser treatments. He is a doctor trainer for various dermal fillers and anti-wrinkle injections. Read More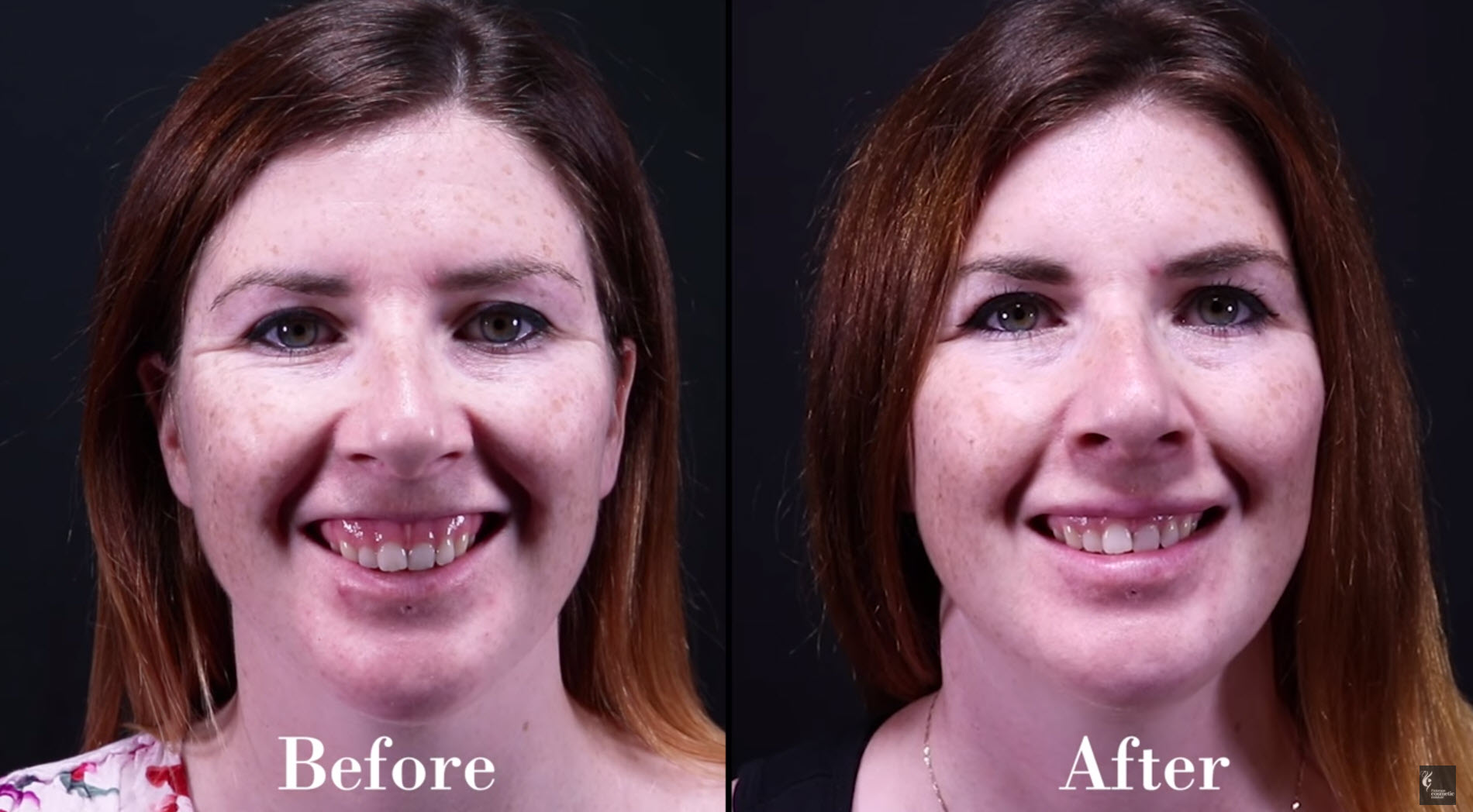 A smile is often your most memorable facial feature and can be the first thing people notice about you. But if your smile reveals a large portion of your gums, it can make you feel self-conscious and unhappy about the way you look. A gummy smile occurs when a large amount of your gums become visible when you smile or laugh. According to Dr Gavin Chan (MBBS, Cosmetic Physician, Liposuctionist) gummy smiles can be corrected and treated with cosmetic dentistry or non-invasive cosmetic procedures.
Non-invasive gummy smile treatment with anti-wrinkle injections and dermal filler treatments performed by highly trained and experienced Cosmetic Doctors and Cosmetic Nurses can alter the muscle balance of the mouth area and improve the attractiveness of the mouth. This treatment is ideal if you have small teeth, excess gum tissue or overactive muscles that control the upper lip.
[youtube src=www.youtube.com/embed/dAmO4JBhGjE]
Non-invasive gummy smile correction case study
Dr Gavin Chan's patient had been unhappy and self-conscious about her smile for 10 to 15 years. Her dissatisfaction with her gummy smile has led to her placing a hand over her mouth or smiling with closed lips in photos. As Dr Gavin Chan assessed her face he noted that her smaller teeth and thin upper lip resulted in an excess of gum showing when she smiled.
The muscle that runs alongside the nose and attaches to the upper lip and pulls upwards is called Levator Labii Superioris Alaeque Nasi. This muscle lifts the upper lip and helps you scrunch the nose up. In this case this muscle is very strong and elevates her upper lip a lot, exposing her gums when she smiles. Anti-wrinkle injections can be used in the muscle alongside the nose and will help relax her upper lip, reducing the amount of gum shown when she smiles.
The Zygomaticus Major muscle attaches to the corner of the mouth and pulls diagonally upward. It is the main muscle that helps us create a large smile and in this case was not particularly strong. Anti-wrinkle injections used in the elevators of the lip will help the Zygomaticus Major muscle to pull up stronger, creating a wider and more attractive smile.
Dr Gavin Chan also noted that the tone of the muscle right around her mouth (Orbicularis Oris) caused her lips to become thin when she smiled. Anti-wrinkle injections used in this muscle help to evert her upper lip and reduce vertical lip fine lines and wrinkles. Using dermal filler treatment in the lips results in a fuller and more attractive lip shape.
While the main goal for this patient was to make the upper lip bigger and to cover more of her gums, it was also important to balance the lower lip to ensure the lip proportions and balance are good. The ideal upper lip is a ratio of about one to 1.618, the Golden Ratio.
During the patient's gummy smile correction and treatment, Dr Gavin Chan used several pain minimisation techniques including local anaesthetic (without adrenaline), ice and vibration. To minimise the possibility of bruising occurring the Accuvein device was used to locate and draw the veins on her face to avoid.
How anti-wrinkle injections can treat and correct gummy smiles
Treating and correcting gummy smiles with anti-wrinkle injections involves having a number of injections with an extremely fine needle in the treatment area. Dr Gavin Chan notes that a considered aesthetic approach needs to be taken with gummy smile correction. "A perfect result may make the patient look so different that they don't like the way they look. Because you can't remove anti-wrinkle injections, we take a conservative approach because we can always add more at the follow up consultation."
He cautions that it's very important not to over treat the mouth and lip muscles with anti-wrinkle injections because it will look unnatural and can also result in difficulties eating, drinking through a straw and smiling. This highlights the importance of having gummy smile correction at a reputable medical clinic that have highly trained and experienced Cosmetic Doctors and Cosmetic Nurses with up to date injecting techniques and skills.
How dermal fillers can treat and correct gummy smiles
Gummy smiles can also be treated and corrected by using dermal fillers in the upper lip. This will increase the thickness and help balance out the shape of your lips. Dermal fillers also add volume and plumpness to the lips.
A decade or so ago, needles were typically used to inject the lips with dermal fillers. The multiple needle punctures caused a lot of trauma, swelling and lumps to the lips with many patients needing to have a week off work. Dr Gavin Chan explains that his team of Cosmetic Doctors and Cosmetic Nurses prefer to use cannulas instead of needles to inject dermal filler into the lips. This specialised injection technique involves making four small entry points on the upper and lower lip, resulting in less trauma, swelling and bruising.
[youtube src=www.youtube.com/embed/U4Z_D4jbHqw]
Using a cannula instead of multiple needles means the Cosmetic Doctor and Cosmetic Nurse can feel, "any fibrous attachments or anything that's a bit tough to pass through. A different pathway can then be found, to inject long threads of dermal filler in."
It is important to note that while the results of dermal filler treatment are immediate, the final result will only be evident a few days later when the mild swelling has settled down. You can view our before and after patient gallery here
Why is it important to have a post treatment check up after your gummy smile correction?
After your gummy smile treatment, it is essential to have a check up with the Cosmetic Doctor or Cosmetic Nurse who has performed it. Dr Gavin Chan explains that the post treatment check up is important to assess the aesthetic results and to determine if more anti-wrinkle injections or dermal filler treatment are required. It is also an opportunity for the patient to give feedback on whether they are pleased with the gummy smile treatment results.
When the patient reported that not many had noticed she had the treatment done, Dr Gavin Chan said, "I think that's a really good thing that people haven't noticed because that means it's a natural, aesthetically pleasing treatment."
As he analysed the patient he noticed that the wrinkles on the right side of her face were still quite strong. To rectify this he used more anti-wrinkle injections in the right upper lip muscle (Orbicularis Oris) and the gummy smile muscle (Levator Labii Superioris Alaeque Nasi).
Dr Gavin Chan was pleased with the definite improvement in the attractiveness of the patient's mouth and smile. He was also happy that the patient felt less self conscious when laughing and smiling.
The best skincare to use after gummy smile treatment
After your gummy smile treatment, it's important to keep your skin hydrated, protected and nourished. Wrinkles Schminkles Mouth Smoothing Kit is effective for reducing fine lines and wrinkles around the mouth, lips and jowl area of the face. Worn at night, the 100% medical grade silicone mouth pads are non-invasive and can be used 20-30 times.
Synergie LipService is a daily lip treatment that effectively hydrates and protects the lips. This lip treatment hydrates and protects the lips against environmental ageing. The combination of a natural moisturising agent, antioxidant rich Tripeptide complex, Lanolin and the naturally sweet taste of spearmint, makes this cosmeceutical lip treatment perfect for a day gloss and a night time moisturising treatment.
Like some guidance with what skincare is best for your skin type and condition? A consultation with one of highly trained and experienced Skin Therapists will ensure your personalised skin care regime gives you optimal results. Book your skin consultation on 1300 863 824.
Improve the attractiveness of your mouth with the best treatments in Melbourne
Since 2005, led by Dr Gavin Chan our highly trained and experienced Cosmetic Doctors and Cosmetic Nurses have helped thousands of people improve their smile and attractiveness of their mouth. The subtle approach to creating aesthetically pleasing lips and mouths ensure our patients look natural and feel confident when smiling.
Find out how we can improve the attractiveness of your mouth and reduce your gummy smile. Call us on 1300 863 824 or fill in the form below.