Article medically reviewed by Dr. Gavin Chan (MBBS, cosmetic physician, liposuctionist)
Templestowe Lower and Berwick Clinics
Dr. Gavin Chan has a background in intensive care, anaesthesia, and emergency medicine. Since 2004, Dr. Chan has provided cosmetic procedures, including anti-wrinkle injections, dermal fillers, liposuction, fat transfer, skin needling, and laser treatments. He is a doctor trainer for various dermal fillers and anti-wrinkle injections. Read More
Upper lip lines occur naturally due to ageing and are formed by repetitive facial movements, ageing and environmental factors. The upper lip area has delicate skin, and can be treated without going under the knife.
Non surgical cosmetic procedures like dermal fillers, anti wrinkle injectables and laser treatments can enhance your youthfulness and overall appearance. In addition to injectable fillers and laser treatment, a consistent skincare routine and lifestyle changes can prevent lip lines.
What causes wrinkles above the lips?
Fine vertical lines can occur for a number of reasons, including environmental or lifestyle factors.
Ageing
The skin is made of protein building blocks such as collagen and elastin, designed to keep your skin firm and plump. As we age, these proteins naturally break down alongside a reduction of our skin's natural oils, resulting in thinning of your skin and volume loss. This can make the overall appearance of your lips smaller as the vermillion border of your lips is flattened and less defined.
Repetitive movement
Repetitive daily facial movements, such as talking, eating, smiling, pouting and frowning significantly contribute to the presence of line above your lips. Over time, these expressions can deepen lines when you contract the muscle surrounding the mouth (Orbicularis oris).
Pursing your lips together when smoking is not the only damage that adds lines to your upper lip. Nicotine in cigarettes has adverse effects which deprives the skin of antioxidants, oxygen and nutrients.
Sun exposure
Sun damage is synonymous with ageing and is an undeniable factor in how vertical upper lip lines form. UV rays penetrate the upper lip skin cell structure and can affect dermal cell growth and DNA. Sun damage is also cumulative, so the more exposure there is, the more defined your vertical lines are.
Alcohol consumption
Skin cells thrive on hydration. The main side effect of drinking alcohol is dehydration and your skin is the first place of evidence of this. Alcohol can also cause inflammation which accelerates ageing and can make you look red and puffy. 
Drinking from straws or bottles
Pursing your lips together when drinking from straws also affects the skin. This causes them to create lip lines and wrinkles more easily. 
What is the best treatment for wrinkles above lips?
The best treatment for stubborn lip lines will depend on your specific concerns. Seeking advice from a qualified practitioner should be the first step when choosing a treatment. This can help you achieve your desired outcome.
The best treatment for lip wrinkles include:
Dermal filler injections

Anti-wrinkle treatment

Laser resurfacing
Dermal fillers
Dermal fillers provide immediate results and help to diminish lines developed above your lip. It also increases volume in the face which provides a youthful appearance. Dermal filler can be administered using a blunt cannula or a needle. At the Victorian Cosmetic Institute, we prefer to use blunt cannulas.
Anti wrinkle injections
Anti wrinkle injections treat upper lip lines by reducing the ability of movement of the muscle surrounding your entire lips. Using injectable treatments to target the muscles results in the relaxation of the muscles and smooths out the appearance of lip lines.
This blocks the nerve signals that contract upon movement and aims to minimise future development of wrinkles.
Laser resurfacing 
Skin resurfacing is a highly effective treatment for above lip lines. Lasers remove dead skin cells, help stimulate new collagen, improves skin texture and creates a tightening effect. The recommended treatment for upper lip line removal is the Erbium Laser.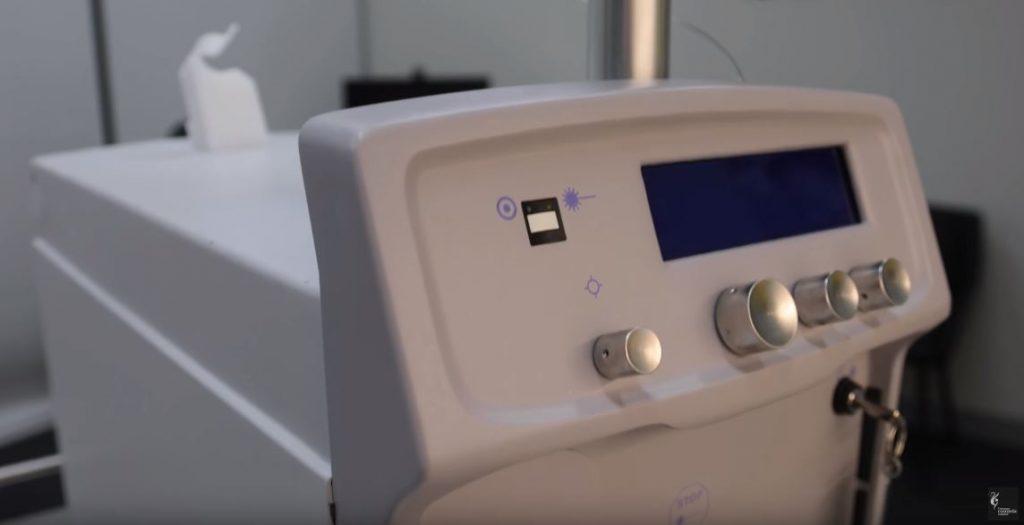 How can I reduce my lip lines naturally?
Using preventative practices can minimise lip lines over time.
For best results, we suggest you introduce a combination of methods to help reduce their appearance.
Minimise straw usage
Drinking from straws and directly from the top of bottles requires you to purse your lips together around a smaller object. These actions will set in lip lines and can be avoided by drinking from objects with wider openings such as a glass or cup.
Avoid smoking 
Smoking has terrible side effects for your skin, especially around your mouth. The suction muscle movement caused by inhalation and the nicotine, restricts the flow of oxygen and other vital nutrients around your mouth. Quitting smoking can significantly reduce lip wrinkle development.
Use sunscreen
Protecting your skin is crucial in combating the signs of ageing. A daily commitment to applying sun protection will provide a barrier between your skin and the sun's ultraviolet rays. We recommend opting for a sunscreen with at least SPF30, but SPF 50+ is better. It's best to find a formula that works well for your skin. Consider looking at the different options available, to find one that suits your skin type.
Keep your lip area hydrated 
Using moisturising creams and balms to lock in hydration will counteract the natural moisture loss we experience as we age. Using lip treatments like lip balms and lip hydrators can help moisturise the lip area and reduce the development of wrinkles. It's best to find one with hydrating ingredients like Shea Butter or Vitamin E, for long lasting moisture.
The best skincare to use after your upper lip wrinkle treatment
After your upper lips have been treated, we suggest following a targeted skincare routine to maintain youthful skin that is nourished and hydrated.
Retinol
Retinol, or Vitamin A, is one of the best topical solutions to target ageing concerns. Some benefits of retinol include:
Minimising the appearance of wrinkles and fine lines

Encourages the production of collagen in the skin

Can treat concerns relating to acne scarring

Exfoliates the skin to improve skin tone and texture
We recommend the Biopelle Retriderm Vitamin A Serum as it's a fast-acting, protein rich 0.5% retinol serum for overall skin rejuvenation. Due to the low concentration, it is ideal for those who are building up their tolerance to Vitamin A.
Serum
Serums are targeted treatments that penetrate the deeper layers of the skin. Serums are used after cleansing and toning and can help promote healthy skin. When trying to find the best face serum for your skin type and concern, it is recommended to:
Focus on one skin concern at a time

Patch test the product before using

Slowly introduce it into your routine, especially if it contains active ingredients like Vitamin C or Retinol
We recommend the PRESCRIBEDsolutions Urbane Renewal Triple Action Antioxidant Serum as it enhances skin radiance, protects and repairs the skin. It is a suitable addition to any skincare routine and can be used twice a day.
Moisturiser
Moisturisers provide the top layers of your skin with necessary hydration. Using a moisturiser twice a day is ideal to reduce visible dehydration. When trying to find the best moisturiser for your skin, focus on:
Finding one that targets your concerns

The right formula for your skin type

Whether you need one for day and night
We recommend the Aspect Dr Resveratrol Moisturising Cream as it helps stimulate collagen, repairs and hydrates the skin. This moisturiser is especially ideal for those with mature skin, as it helps fight the signs of ageing and restores skin firmness.
Sunscreen
Applying sunscreen daily creates a strong defence against wrinkles and fine lines developing. We recommend that you choose a broad-spectrum sunscreen. Some things to consider when using sunscreen:
Is the formula right for me and my skin type?

Does it feel comfortable on the skin?

Am I reapplying when necessary?
Unsure of which skincare products to use? You can book a skin consultation with our highly trained and experienced Skin Therapists who can advise which products will suit your skin type.
The best place to remove upper lip wrinkles in Melbourne
Since 2005, Dr Gavin Chan and his team of highly trained and experienced Cosmetic Doctors and Cosmetic Nurses at the Victorian Cosmetic Institute have helped thousands of patients remove upper lip lines. 
At your consultation the Cosmetic Doctor or Cosmetic Nurse will assess your face, understand the specifics of your concerns and recommend suitable treatment options. We pride ourselves on providing upper lip wrinkle treatments that reduce lip wrinkles, restore volume and redefine the natural lip line.
Call our friendly customer service team to book a consultation today on 1300 863 824 or make your appointment or book online.