If you've noticed that the skin at the sides of your face is dragging down to create a sad appearance, you're not alone. Even though you feel happy, during the natural ageing process it's common to take on a sad appearance with a downturned mouth. A perpetually sad looking face can result in marionette folds appearing. Similar to a marionette puppet's face these lines look like you're able to open and close your mouth without the rest of your face moving. Marionette lines commonly arise for people in their early to mid 40's with many feeling unhappy that they're making them look and feel older than they are.
Since 2005 Dr Gavin Chan (MBBS, Cosmetic Physician, Liposuctionist) and his team have been treating patients with marionette lines and folds. Unlike many clinics though, Dr Gavin Chan isn't using dermal fillers to treat marionette lines and folds anymore. With his many years of training, experience and an aesthetic eye for detail, Dr Gavin Chan has discovered the best way to treat marionette lines and folds.
What causes marionette lines and folds?
Marionette folds and lines are caused by three separate factors: gravity, loss of volume and the depressor muscles at the corners of your mouth. Dr Gavin Chan notes that the main cause of 'puppet face' (where your nasolabial lines and marionette folds are prominent) is gravity. "Your face is affected by gravity every day. Over time you get downward and inward movement of your cheeks and face. This results in your cheeks folding over to create marionette folds and nasolabial lines"
Volume loss is the second biggest contributor to marionette folds and lines developing. Dr Gavin Chan says there are two volume losses that contribute to this:
The volume loss of the soft tissues where fat skin becomes thinner, also known as soft tissue volume loss, and
The volume loss of bone where the mandible becomes thinner and resorbs, also known as bony resorption of the mandible. This bone resorption is most evident when you see someone who has no teeth or hasn't got their dentures in.
The final contributing factor to marionette lines and folds and lines developing is when the depressor muscles of your mouth corners are constantly activated. When this muscle called depressor anguli oris (DAO) is constantly activated it creates a 'sad face' look. Many people use this muscle unintentionally, causing their mouth corners to pull down.
What is the best way to treat marionette lines and folds?
Since there are multiples causes of marionette lines folds developing, there is no 'easy fix' way to treat them. In the past, we used dermal fillers to treat them, but we don't treat marionette lines using dermal filers now, simply because it doesn't work. The "gold standard" to fix marionette folds is to have a surgical facelift. This is because surgically pulling the folds back from the mid-face area and above is the best way to fix them. Surgical facelifts only appeal to a small percentage of patients who are highly motivated and prepared for the considerable downtime and expense.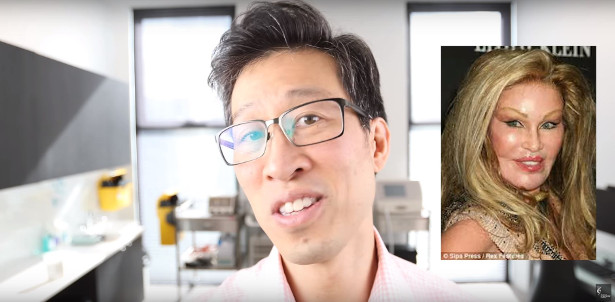 Patients who don't want to undergo facelift surgery often wonder if using dermal filler in their cheeks will help treat their marionette lines and nasolabial folds. While this would theoretically help lift the whole face up, it would require a lot of dermal filler to be used and your cheeks would become ridiculously large. Rather than use dermal fillers in the cheeks, Dr Gavin Chan prefers to use anti-wrinkle injections in the depressor anguli oris to stop the downward mouth that makes you look sad.
Using excessive amounts of dermal fillers to help alleviate marionette folds or turn mouth corners up is no longer the best way to treat marionette lines and folds. Dr Gavin Chan recognised that patients spent time and money getting treatments but many of them weren't happy with the results. Filling this facial area constantly with dermal fillers only made it thicker and the marionette folds were still there. In some cases, they had shifted out a bit due to the filler pushing the skin outwards. Overfilling the marionette line area of the face also started to distort some patients face shape. Some patients started to get thicker around the bottom part of their face rather than having the desired face shape of fullness in the cheeks and thinness and sharpness around the jawline.
Our Cosmetic Doctors and Cosmetic Nurses aren't filing marionette folds with dermal fillers anymore. This shift of direction recognises that this area of the face cannot significantly change unless you undergo face-lift surgery. So how do we treat your marionette lines and folds now? We focus on your facial shape and contour while using anti-wrinkle injections and dermal fillers to enhance this.
Why we only treat marionette lines and folds using the principles of facial shape and contour
When you look at someone's face a few metres away, in most cases you can guess how old they are. From a distance, the facial shape can indicate how old someone is, usually within a 5-year period. While many of our patients are concerned about upper lip lines, crow's feet and forehead wrinkles we know what really makes them look and feel more youthful is improving their facial shape and contour.
Not convinced? Think about how your hair stylist cuts your hair and shapes it to give you the ideal facial shape. If you have hollow temples they're going to ensure your hair goes across there. If you have a wide jawline and you're female they may give you a hairstyle to cover your jawline.
We know patients will often focus on lines, wrinkles and folds because they can only see themselves in two dimensions, in a photo or mirror. When our highly trained and experienced Cosmetic Doctors and Nurses see our patients, they view them in three-dimensional contours and shapes of people rather than a two-dimensional image.
After our aesthetic facial assessment, treatment can improve marionette lines and folds by firstly using dermal fillers in the corners of the mouth. This adds volume and helps to move the mouth corners forward so your lower lip is supported, creating a more upwards turned mouth corner. The next thing we do is to shape your jawline by using some filler alongside it. This lowers the jawline just adjacent to your chin to give you a straight jawline.
All our clinics now focus on improving the overall shape around the marionette lines and folds by improving the shape and contour of the jawline and mouth.
The best anti-ageing skincare to make your face feel fresher and look younger
Since marionette lines appear as a natural part of the ageing process, it's useful to consider using clinically proven skincare products. Biopelle Tensage Daily Serum SCA 15 Biorepair index (30ml) can help improve the visible signs of ageing and is suitable for all skin types. This oil-free daily serum helps brighten and even skin tone, repair photodamage and improve the visible signs of ageing. Used twice daily the combination of Niacinamide, antioxidants, brightening agents and humectants help maintain results from non-surgical treatments and aesthetic procedures.
Cosmedix Elite X-Age (30ml) has been specifically formulated to improve your skin's appearance by making it softer, firmer and free from imperfections. Its unique formula of sodium hyaluronate, Vitamin A and soy biopeptides is ideal for ageing skin as it helps keep your skin hydrated and supple. This skincare product is ideal to use if you have photodamaged, dry, irritated or dehydrated skin and is useful suitable to use after peels or laser treatments.
Biopelle Tensage Stem Cell Cream helps combat the multiple signs of ageing for mature skin on the face, neck and décolletage. The nourishing, rich formula reduces fine lines and wrinkles, smooths out rough skin texture and evens out skin tone. With a rich combination of peptides, ceramide NP, Vitamin C and E, retinol and soothing botanical extracts, this cream is ideal for night use. It can be used during the day if a high SPF sunscreen is applied over it.
Not sure which skincare is best for you? A consultation with one of our highly qualified and experienced Skin Therapists will ensure your personalised skin care regime delivers optimal results. Contact 1300 863 824 to book your consultation.
Get the best marionette folds and marionette lines treatment in Melbourne
Laughing and smiling isn't just healthy for your body, heart and soul; they're a reflection of how well you've lived, loved and enjoyed your life. If your facial expressions are creating unwanted lines, wrinkles and folds there's no need to stop living your life. Since 2005, we have successfully treated thousands of people's marionette lines, wrinkles and folds to help them feel and look younger. Led by Dr Gavin Chan, our highly trained and experienced Cosmetic Doctors and Cosmetic Nurses are passionate about creating subtle and natural-looking changes to your face. Book your marionette lines consultation or call us on 1300 863 824.