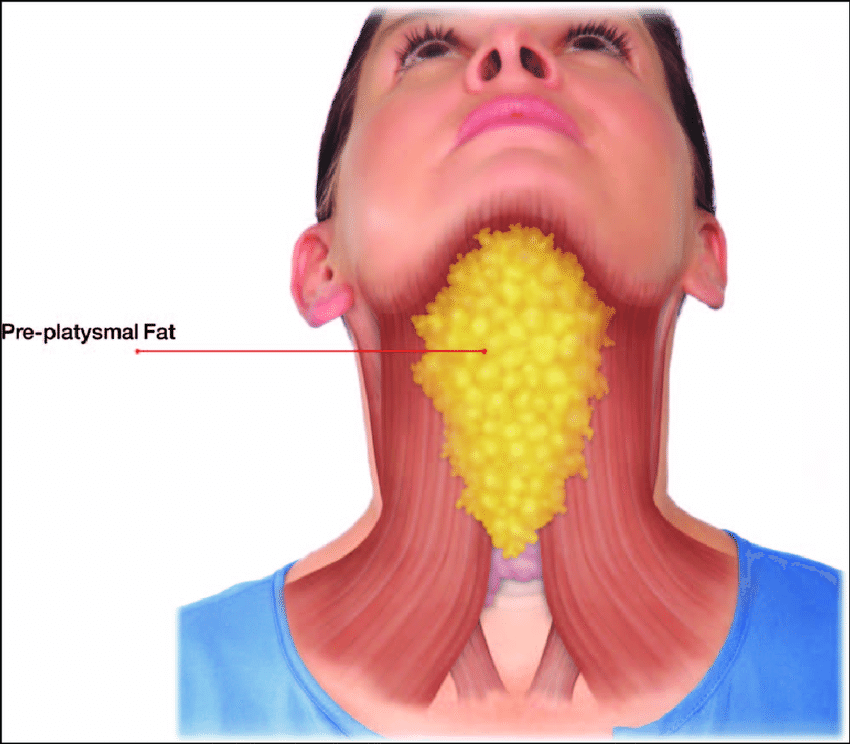 Do you have a double chin or extra fullness around your chin that makes you feel self-conscious? Have you noticed that it's getting more pronounced even though you exercise regularly and eat healthy food? If you want to improve your chin profile and remove your double chin, you don't need to have surgery. Fat dissolving injections can permanently reduce your double chin. Say goodbye to tilting your head up when your photo is taken and hiding your neck with scarves.
Fat dissolving injections have been used for over a decade and are composed of substances that occur naturally in the human body. Prior to 2017 they were a mixture of phosphatidylcholine (PPC) and deoxcholate (DC). The release of a second-generation fat dissolving injection in 2017 with the active ingredient DC has improved our ability to dissolve double chin fat.
What is double chin fat?
A double chin (also called submental fat) is the area that lies under your chin and around the jawline. While weight loss can decrease the amount of double chin fat, in many cases it doesn't reduce due to genetics. Having fat around your chin results in the jawline becoming less defined and aesthetically pleasing. The area of double chin fat we can treat with fat dissolving injections is called pre-platysmal fat.
How do double chin fat dissolving injections work?
Since 2005, led by Dr Gavin Chan our team of highly experienced and trained Cosmetic Doctors and Cosmetic Nurses have successfully treated double chin fat using injections. As a non-surgical alternative to liposuction, this treatment is ideal for patients with minimal skin laxity and a small amount of submental fat.
From 2017 we have used fat dissolving injections to treat double chin fat with the active ingredient DC, an acid that occurs naturally in your body. The injections used in the double chin fat permanently destroy fat cells using a process call adipocytolysis. It's important to note that once the double chin fat cells are destroyed they won't be able to store fat again.
What does it feel like to have injections that dissolve double chin fat?
Since 2017 we have been using an injection produced by Allergan that has been produced to exclusively treat double chin fat. A temporary tattoo template is placed on the areas that need treatment. This ensures the exact amount of volume is used at each injection site. To minimise any pain or discomfort during the treatment, we apply topical anaesthetic to the treatment area and inject local anaesthetic. We can also use ice to numb the treatment area.
After your double chin fat has been treated with injections that dissolve fat, you will experience swelling and some tenderness. On the day of your treatment this may be considerable, however it's a sign that the treatment is working and that your body is destroying fat cells. Although this is a non-surgical treatment, we suggest that you schedule your appointment so you can go straight home afterwards. Over the next few days some patients can experience bruising. This is a common side effect and can last up to 3 weeks.
Fat dissolving injections V Liposuction to remove double chin fat
Traditionally liposuction has been the gold standard treatment used to remove patient's fat in areas that won't shrink even though they exercise regularly and have a healthy diet. Liposuction is generally performed using intravenous sedation or under general anaesthetic. To remove double chin fat, small incisions are made under the chin and behind the ears. Local anaesthetic is administered and a metal cannula with suction then removes the fat. In most cases, recovery is around 7 days.
Fat dissolving injections are a popular non-surgical alternative to removing double chin fat. It's important to note that the process of fat cell destruction using injections takes longer than liposuction, where the fat cells are removed instantly. Since 2017 we have been using a brand of fat dissolving injections that have been specifically designed to treat submental fat. With strict treatment protocols and a standardised volume per injection site, the results of this fat dissolving product have been outstanding.
The best Melbourne medical clinic for fat dissolving injections
Thinking about getting your double chin fat dissolved with injections? It's important to choose a medical clinic with highly trained and experienced Cosmetic Doctors and Cosmetic Nurses who focus on this treatment. For the last decade, we've treated thousands of patient's double chins with fat dissolving injections.
To ensure this treatment is appropriate for you, we thoroughly examine the area around and under your chin. Every treatment is personally tailored so the right amount of chin fat is removed and your aesthetic goals are achieved. To find out how fat dissolving injections can make your using the right anti-wrinkle treatment can make you look and feel amazing Call us on 1300 863 824 or request a consultation using the form below.